Anti-Abortion Laws Are Harming Women Suffering from Miscarriages
Pharmacists are withholding medication. And some women are having to carry dead fetuses because doctors are afraid to perform life-saving procedures that might run afoul of anti-abortion laws in their state.
In July, the New York Times spoke to a woman named Amanda (withholding her last name for privacy) who was a victim of Texas' anti-abortion law.
They reported that Amanda "said she went to the same hospital, Baylor Scott & White Medical Center, doubled over in pain and screaming as she passed a large blood clot.
But when she requested [a] surgical evacuation procedure, called dilation and curettage, or D&C, she said the hospital told her no.
A D&C is the same procedure used for some abortions."
The New York Times confirmed Amanda's story by reviewing her medical documents. During this horrific event, the hospital "sent her home with instructions to return only if she was bleeding so excessively that her blood filled a diaper more than once an hour."
Woman Forced to Carry a Fetus Without a Skull That Will Die Immediately After Birth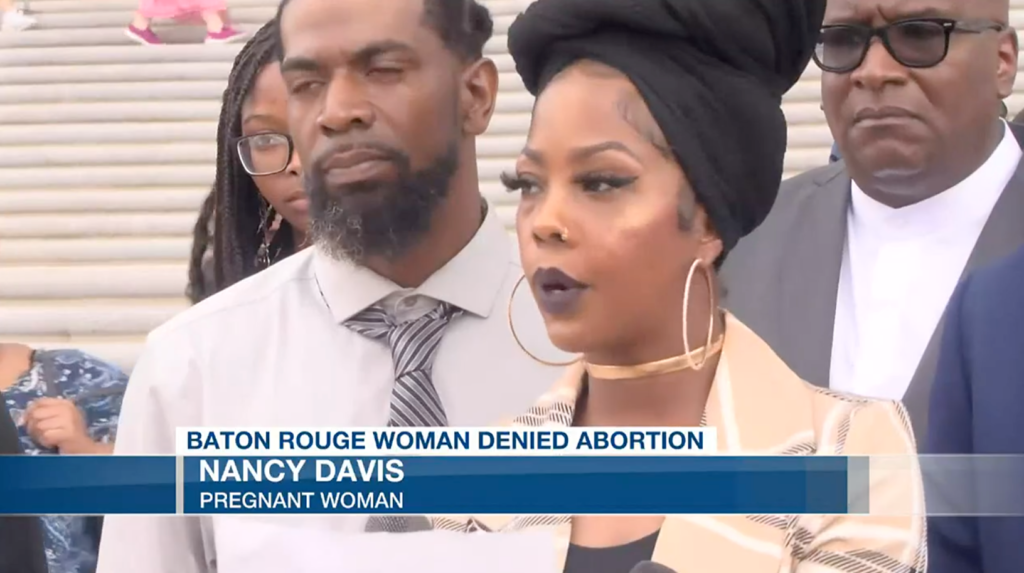 In Louisianna, Nancy Davis was told she had to carry her fetus to term even though, immediately after birth, her child will die.
"Ten weeks into my pregnancy I found out that my baby had a rare birth defect called Acrania, the doctors told me that my baby would die shortly after birth; they told me that I should terminate the pregnancy. Because of the state of Louisiana's abortion ban, they could not perform the procedure. Basically, they said I had to carry my baby to bury my baby," said Davis.
Pharmacists Withholding Medication
In September, Politico reported "Patients seeking drugs to treat everything from arthritis to acne at Walgreens and CVS pharmacies in the dozen-plus states with near-total abortion bans must show extra documentation to prove that they're not using the drugs to end a pregnancy, the companies confirmed to POLITICO. Those who can't are, in some cases, being turned away.
The chronic illness advocacy group Global Healthy Living Foundation said its members in Tennessee, Texas and other states with abortion restrictions have been refused prescriptions for methotrexate — a drug for patients with lupus and other illnesses that also can be used to induce an abortion in the case of an ectopic pregnancy — and they're lobbying those states' governors and local officials to intervene."
Republicans want to be your doctor.
Republicans running for state and federal positions all over the country are endorsing 100% abortion bans. In September, Lindsey Graham introduced a nationwide abortion ban modeled after the laws in Texas.
If Republicans regain any power, they will use it to take control away from women and families while inflicting insurmountable harm and suffering.
Make it clear in November. Tell Republicans, "YOU'RE NOT MY DOCTOR!"
Sources
Fox 8 News: Woman forced to carry fetus with no chance of living due to Louisiana abortion law
NY Times: They Had Miscarriages, and New Abortion Laws Obstructed Treatment
Texas Tribune: Because of Texas abortion law, her wanted pregnancy became a medical nightmare
KVUE (TEXAS): Texas woman says she was denied abortion care after her miscarriage
Politico: Patients face barriers to routine care as doctors warn of ripple effects from broad abortion bans
Facts work the best when shared with friends. ..
FactPAC is dedicated to supporting a robust and fair Democracy by getting the facts to voters. FactPAC is an unconnected political action committee that has no affiliation with any other organizations or campaigns. We are donor-supported and volunteer-run.
Sharing this fact can make a difference! Can you share it on just one of your profiles?