Blake Masters Doesn't Actually Believe Joe Biden Was Elected
As Blake Masters, the billionaire-sponsored and Trump Endorsed Republican is running around Arizona trying to pretend he isn't a MAGA extremist, his website is sending voters a very different signal.
In a debate aired on C-SPAN, Blake Masters said he believed Joe Biden was the duly elected President of the United States. But his own website shoes he's still a believer in the Big Lie and if given the chance, will overthrow an election to plant Donald Trump in the White House should he lose (again) in 2024.
Yahoo News Reported, "With his race against incumbent Sen. Mark Kelly (D-AZ) tightening in recent weeks, the ultra-conservative Masters has attempted to distance himself from unpopular right-wing positions and soften his stances on several divisive issues. Notably, the Trump-backed venture capitalist quietly scrubbed a section of his campaign website peddling the "Big Lie" about a "stolen" 2020 election.
"The 2020 election was a rotten mess," the site read in August. "If we had had a free and fair election, President Trump would be sitting in the Oval Office today and America would be so much better off." 
While he tries to scrub the campaign website of his extremism, he's still sending a message loud and clear to the forces behind the January 6th insurrection… Blake Masters is on their side.
You don't have to take our word for it. Just visit https://www.blakemasters.com/about and you will see for yourself.
Screenshot from October 13, 2022: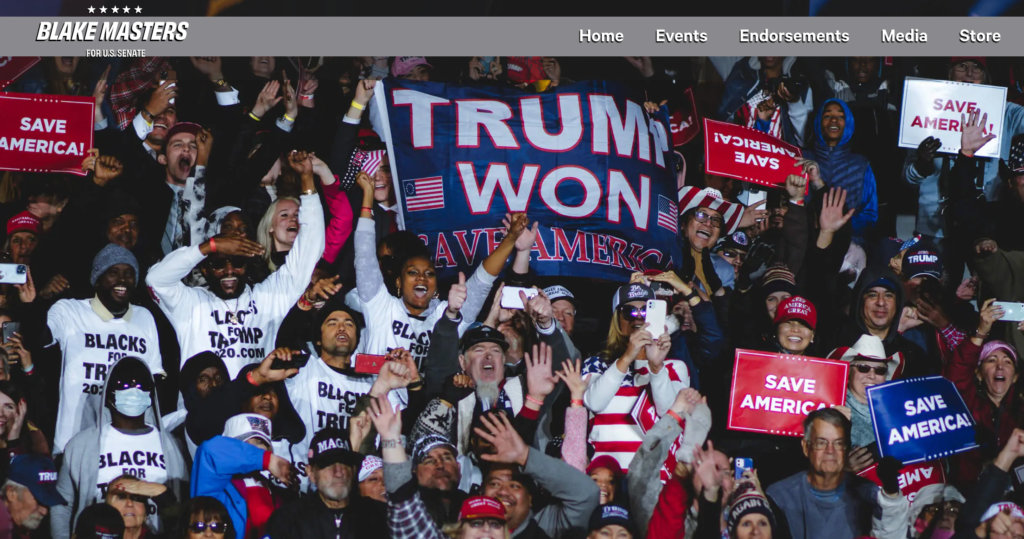 Source
C-SPAN: Arizona Senate Debate
Yahoo! News: Blake Masters Tells Fox News He Still Believes Trump Won in 2020
Photo Source: 6 Revealing Moments From Our Profile of GOP Senate Candidate Blake Masters
Facts work the best when shared with friends. ..
FactPAC is dedicated to supporting a robust and fair Democracy by getting the facts to voters. FactPAC is an unconnected political action committee that has no affiliation with any other organizations or campaigns. We are donor-supported and volunteer-run.
Sharing this fact can make a difference! Can you share it on just one of your profiles?